Between vast wetlands and more than 50 inches of rainfall per year, the state of Florida has a good amount of excess water. That water must go somewhere and KPM Franklin's drainage engineers specialize in providing services for designing systems where the water goes.
Our civil engineering team provides a variety of related services including:
Stormwater Management
Erosion Control
Stormwater Pollution Prevention Planning
Drainage Studies
Water and Wastewater Utilities
To get a better idea of our work in action, check out the following drainage solutions and project examples.
Stormwater Management Ponds
These are often called retention basins or wet ponds but refer to any artificial pond that is used to provide water quality treatment of stormwater runoff and hold back water to prevent flooding due to an increased amount stormwater resulting from construction of impervious surfaces.
At ChampionsGate, KPM Franklin designed the reconstruction of one existing drainage pond and construction of one new pond. This was part of an interim improvement project at the Interstate 4 (I-4) and County Road (CR) 532 interchange. The two ponds are modifications necessary for converting the existing diamond interchange to a diverging diamond interchange (DDI).
The two ponds will be interconnected with a third existing pond and discharge into a bypass swale system located west of I-4 along the perimeter of the ChampionsGate development. This bypass swale system discharges into a wetlands system to the northwest of the interchange and flows into Davenport Creek, which is a tributary to Reedy Creek.
Swale Systems
A drainage swale is a vegetated open channel or a shallow ditch that collects water from hard surfaces, such as parking lots and roadways. Using a swale offers a more natural means to convey stormwater than drainage inlets and pipes. Swales typically allow the water to percolate in the ground and recharge the aquifer. Swales also provide a minor amount of water quality treatment.
Box Culverts
Culverts are structures that allow water to flow under a road from one side to the other. A culvert may be in the shape of a round, arched or elliptical pipe, or a rectangular box. Culverts are made of reinforced concrete, metal or various forms of plastic. KPM Franklin recently designed a project using box culverts for their versatility in drainage design. Box culverts are suitable for applications such as underpasses, stream culverts, water storage and more.
KPM Franklin used concrete box culverts in the 2,300 linear feet of 80-foot two-lane road Right of Way extension on Nature's Ridge Drive in Osceola County. Reinforced concrete pipes (RCP), concrete box culverts and bridge options were considered for this crossing. After comparing material costs, labor costs and construction time, the concrete box culverts option was selected because it provided a more cost-effective, quality-controlled and innovative design that met the project needs.
Gapped Concrete Pavers
This innovative drainage application uses pavers with underlying coarse aggregate (gravel), and an optional short retention chamber. The slope of the surface is adjusted to direct water away. KPM Franklin has been using these in parking lots to provide water quality treatment and avoid the need for a pond.
Pavers work well on rehab projects where a local agency requires water quality treatment, but the flow rate does not need to be reduced since the site was previously developed without having any stormwater flow restrictions. The pavers in the following image are a proprietary product known as PaveDrain. This product is somewhat different from other pavers in that it includes a built-in hollow chamber within the pavers to provide additional storage for stormwater.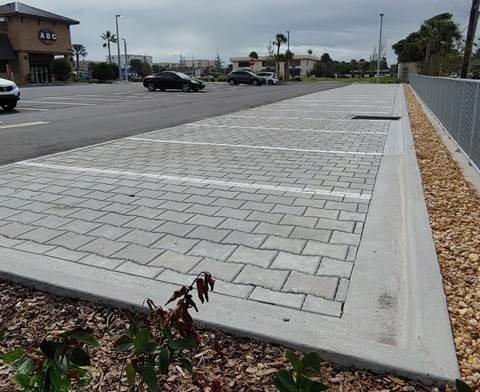 Explore more KPM Franklin projects.